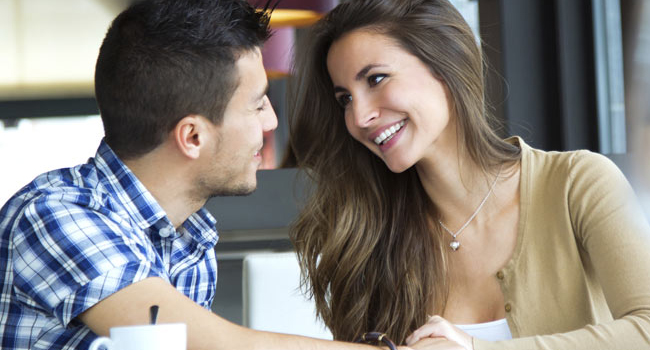 Have you started liking the girl next door? Don't know if she feels the same for you or not? Or you are confused about some sudden changes in your friend (female) and can't figure out why?

She gets confused Have you noticed that she starts getting confused with you even on very simplest things.. Yes, that's the sign she is confused about you. Actually, she she is not able to figure out how should she treat you because she is also not aware of your feelings.

She keeps looking at you Whenever you guys are together notice that she will be looking at you constantly. That may be because she feels that's the best part of her day. Hmm..your face did a wonder this time!

She tries to find out excuses to talk to you Is she calling you at odd times for the easiest problems in math or trying to share something about topics which are not even relevant to you anyhow.? Yes, my dear she is definitely into you.

She can't stop smiling Her smile not only signifies her beauty but also speaks her heart out. If she constantly smiles when she is with you. Then, it's a sign for you that she loves being with you.

She doesn't hesitate to share anything with you She shares a comfort zone with you. She can talk to you about anything as well as she shares her stuff with you. It's a very big sign because trust me, girls don't share their stuff so easily. Ask their siblings you will get the proof!

She remembers all your important stuff Whether it's your birthday, cricket match ,exam, any important work related stuff, she knows it all even better than you because you are important to her.

If you find any of the above in that girl,mark my words she likes you somewhere deep inside. So, don't let her go, grab her and she will be all yours.

Like and Share our FB Page and keep coming for more!
COMMENTS
Be the first to Comment!
LEAVE A COMMENT
Disclaimer:
Please write your correct name and email address. Kindly do not post any personal, abusive, defamatory, infringing, obscene, indecent, discriminatory or unlawful or similar comments. YoungPulse will not be responsible for any defamatory message posted under this article.
Please note that sending false messages to insult, defame, intimidate, mislead or deceive people or to intentionally cause public disorder is punishable under law. It is obligatory on YoungPulse to provide the IP address and other details of senders of such comments, to the authority concerned upon request.
Hence, sending offensive comments using YoungPulse will be purely at your own risk, and in no way will YoungPulse be held responsible.